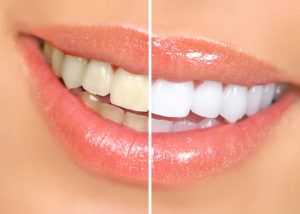 Does the way your teeth look really matter? Of course it does, because your self-esteem is important, and a beautiful smile makes you feel better! According to recent studies, the appearance of your ivories also has an impact on the way others view you, as 73 percent of a survey group said they would trust a person with a nice smile more than someone with a promising career, flashy car or stylish wardrobe. Your local dentist says one of the great ways to improve your smile is with teeth whitening in Greensboro. As you continue reading, you'll learn just how easy it is to get a brighter and more appealing set of pearly whites!
The Benefits of In-Office Teeth Whitening
If you have stained or discolored teeth, one of the best ways to improve your grin is with teeth whitening.
Here are some of the benefits of the in-office method offered by your local dentist:
Only professional grade whiteners are used, guaranteeing that you'll get the fastest yet safest results.
The process only takes about an hour to complete, so you won't have to worry about carving out a huge chunk of your day to have it done.
You won't have to worry about any anesthesia being administered before the process begins, which lessens the chances of any complications.
You'll leave your dentist's office with brand-new looking teeth that gleam up to 10 times brighter than their previous condition.
How Does the Process Work?
Are you wondering how your dentist can deliver such amazing results? Does it seem too good to be true? Don't worry – it's a reality!
Here are the simple steps that he takes during the whitening procedure:
The process begins with him gently pulling your lips back from your teeth to ensure that none of the bleaches irritate your soft tissues.
The next step is to apply a whitening gel to your teeth.
He'll then shine a special light on the gel that activates the bleaching agents.
With those simple steps your ivories will be rejuvenated!
Want Longer Lasting Results?
Once you leave the office of your cosmetic dentist in Greensboro with a beautifully transformed smile, you want to maintain it.
Keep these tips in mind to help out:
Limit your consumption of foods and beverages that are more prone to stain your teeth, like berries, tomato sauce, coffee and tea.
Practicing excellent oral hygiene also helps to maintain the gleam of your white teeth.
After a meal, try to make a habit of at least rinsing your teeth with water or mouthwash to remove any debris before they dry and harden into stains.
Maintain regular visits with your dentist so that he can monitor the condition of your teeth.
By keeping these tips in mind, you'll be able to enjoy your amazing smile for years. So to start the process, just reach out to your dentist today!
About the Author
Inspired to become a dentist as a teenager, Dr. David M. Fisher remains just as passionate about dentistry today as he was as a high school student. He earned his Doctor of Dental Surgery degree from the University of North Carolina and has been in private practice for nearly 20 years. Dr. Fisher can be reached for more information about his services through his website.