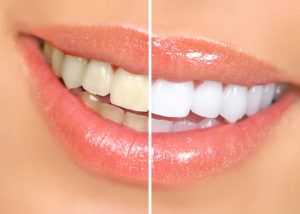 Teeth whitening in Greensboro is a great way to obtain a brighter smile and enhanced self-confidence. Enjoying the most benefit from this gentle, effective procedure includes watching what you eat for the first day afterward. In general, you should avoid foods that are likely to cause re-staining or irritate sensitive teeth. After a short time you can resume a normal healthy diet, normally between 24-72 hours.
Five Foods to Avoid After Teeth Whitening
Items to avoid include:
Dark or strongly colored liquids: for instance, tea, coffee, red wine, cola, and tomato juice.
Acidic beverages: examples are soft drinks, fruit juices, and alcohol in general.
Foods with natural or added colorants: beef, soy sauce, ketchup, bologna, and chocolate are examples.
Sugary foods: cakes, cookies, ice cream, etc., can trigger decay-causing bacteria, causing tooth irritation and possible staining.
Any item that fails the "white shirt test:" it's best to avoid any food that would leave a visible stain on a white piece of clothing for the first 24 hours after whitening.
"So What Can I Eat After Teeth Whitening?"
Good question; it may seem like your choices are severely restricted. In reality however, there are many items you can enjoy during the post-whitening period. They include:
Skinless turkey or chicken: remove any portions of fat or have the preparer do so.
White fish: avoid strong spices or colored sauces.
White rice, pasta, or bread: eat these in limited amounts, as excess carb consumption can promote cavities.
Egg whites: ditch the yokes.
White cheeses: Lower-fat versions are better.
Peeled potatoes: mashed, boiled, or sliced, however you like them.
Cauliflower or white onions.
Skimmed or low-fat milk.
 Other Tips for the Post-Whitening Period
By all means brush your teeth after having them whitened. But make sure to use a soft bristle brush and a low or non-abrasive form of toothpaste. Your may want to use a formula designed for sensitive teeth.
Drink all the plain water you like. This is good for ensuring adequate saliva production.  Tap water is best, as it contains fluoride.
Tobacco products and vaping devices can undo all the good you gain from teeth whitening. Your dentists can recommend new medications that will help you to kick the habit for good.
Keeping Your Teeth Looking Their Best Year-Round
Following some common-sense dental care tips will help to keep your teeth looking their best 12 months out of the year. The following guidelines are especially important:
Brush 2-3 times a day: you should brush gently yet thoroughly for a full two minutes each time, making sure to clean every tooth surface.
Floss every day: this is crucial for removing plaque that brushing alone cannot reach.
Eat sensibly: this means getting plenty of healthy foods rich in lean protein, calcium, vitamins, and minerals.
See your cosmetic dentist in Greensboro twice a year: regular checkups are important for controlling plaque and catching oral health concerns in their earliest stages.
 Teeth whitening is an investment in a better smile and a better life. Keep it working for you by following the tips in this post. We wish you a healthy and happy 2019.
About the Author
Dr. David Fisher is a skilled general and cosmetic dentist and the owner of his own practice here in Greensboro. He's a member of the American Dental Association and the Academy of General Dentistry. His office proudly offers whitening treatments as one of its services. You can reach his office online or by calling (336) 288-1242.