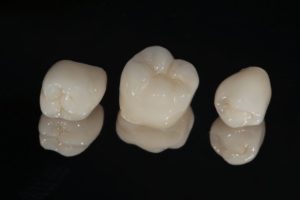 While modern dental crowns are designed to last for more than a decade, they can still fall off of your tooth despite your best intentions. This most often occurs when eating particularly sticky foods such as taffy or caramel. Crowns can come loose if the adhesive is old and failing, but it may also happen if the tooth supporting your crown has begun to weaken due to decay. Whatever the cause of your lost crown, there are certain things you should do in order to preserve your oral health. An emergency dentist in Greensboro lists the steps to take in this situation.
Step 1: Call Your Dentist Immediately
While not as urgent as a knocked-out tooth or a debilitating toothache, losing a crown is still considered a dental emergency. The underlying tooth is lacking its protection and is now vulnerable to damage. In some cases, it could be sensitive or even painful. To prevent harmful complications, it's best to contact your dentist as soon as you can to get your crown reattached.
Step 2: Locate and Clean the Crown
Find the crown and gently rinse it off under running water to wash away any food particles or other debris. Then, place it in an easily accessible container or plastic bag. Bring it with you to your dentist's office so they can determine whether it can be placed back onto your tooth.
Step 3: Protect Your Tooth Until Your Appointment
Ideally, you should receive emergency care the same day you call your dentist, but this isn't always possible. Since the underlying tooth is no longer protected by the crown, it may be tender and sore. To soothe this discomfort, you can purchase temporary dental cement to place the crown back on the tooth until you can see your dentist. Similarly, a lump of dental wax will also provide protection. Still, avoid chewing directly with that tooth until your appointment.
Step 4: Get the Crown Reattached or Replaced
If your crown is still in one piece, your dentist may be able to reattach it with dental cement. This solution should last for years to come. However, it's possible that the crown or tooth is so badly damaged that a simple reattachment is not advisable. If this is the case, your dentist will go over your options for crown replacement.
Throughout this whole process, it's important to remain calm. Just follow these steps, and your dentist will take care of the rest.
About the Author
Dr. David M. Fisher, Jr. has been providing dental care to the Greensboro, NC community for more than 20 years. He obtained his Doctor of Dental Surgery degree from the University of North Carolina at Chapel Hill. In most cases, his practice is able to accommodate dental emergencies on the same day you call. They even offer sedation options to make you more comfortable. If you have a lost dental crown in Greensboro, contact Dr. Fisher's office at 336-288-1242.