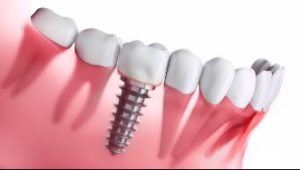 If you're one of the millions of Americans who has experienced tooth loss, you've probably heard that dental implants are a fantastic way to restore your smile. But before investing in any kind of procedure, it's a good idea to start by asking the right questions. And, understandably, one of the first questions many people have is about cost! Although there isn't a specific figure that applies to everyone, you'll get great information in this blog about the factors that affect the cost of a dental implants in Greensboro and whether they're a good investment or not. Learn more below!
How Much Do Implants Cost?
It's difficult to provide a specific answer to this question because the final cost will depend on your individual situation. With that said, a good ballpark figure for a single implant is between $3,000-$4,500.
Here are some of the factors a dentist will consider when creating the best plan for your needs:
The number of implants you need – A single implant will include the cost of the dental crown that's needed to complete it. For multiple missing teeth, an implant-retained bridge might be recommended instead.
Whether you need extractions or gum therapy – If any teeth need to be extracted or you have active gum disease that needs treatment beforehand, those costs will be added.
If you have enough bone mass in your jaw – If you've lost some of the bone mass in your jaw (which naturally occurs over time after tooth loss), you may need a bone graft to provide the support an implant needs.
Whether an implant-retained denture is necessary – If you're missing all of your teeth, an implant-retained denture may be a great choice. This involves placing just 2-4 implants per arch, which are significantly smaller than regular implants, before attaching a denture.
As you can see, there are many different possibilities, so the first step is to schedule a consultation with a dentist who can evaluate your needs and review your options with you.
Are Implants Worth the Investment?
Dental implants are the only tooth replacement option that can potentially last a lifetime, which makes them a wonderful investment in your oral health. Not to mention that they also look, feel and function more like your own teeth than dentures or bridges.
Although traditional dentures and bridges are less expensive initially, dentures only last an average of 5-8 years, while bridges last about 10. Also, ongoing re-lines and adjustments are necessary to keep a denture fitting well.
This makes implants more cost-effective in the long run because, with basic care and maintenance, they last decades.
How Can You Make Implants More Affordable?
One of the best ways to make implants more affordable is a financing option such as CareCredit. This gives you a way to make monthly, low or no-interest payments over a period of time, so it's perfect for procedures like implants.
Now that you have more information about the cost (and benefits) of getting dental implants, you're one step closer to making the right decision for you!
About the Author
Dr. David Fisher is a family dentist in Greensboro who understands that finances are one of his patients' biggest priorities. That's why he always keeps his patients' budgets and long-term needs in mind when he makes recommendations for tooth replacement. If you're considering dental implants and have any additional questions, he can be reached through his website or at (336) 288-1242.