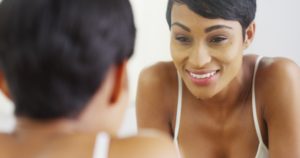 When you look in the mirror, are you unhappy with the smile you see? Do you often find yourself hiding your mouth when talking or taking pictures? You are not alone. In fact, the American Association of Orthodontics estimates one-third of adults do not like how their teeth look. It turns out, how you feel about your smile directly influences your confidence and how others view you. You do not need to live with your insecurities. Your cosmetic dentist in Greensboro has the solutions you need to revamp your smile.

Improve Your Confidence
Dental-related imperfections are known to directly influence how you view yourself. According to a study by the American Association of Orthodontics, 36% of adults say they would have a better social life and 22% a better love life if they liked how their teeth looked.
Your cosmetic issues do not just affect how you see yourself but how others view you as well. Within the first 7 seconds of meeting someone new, they have already established their first impression about you. 47% of people admit an attractive smile is one of the top assets they use to form an opinion about someone. Of those surveyed, 78% say an unattractive smile makes them view someone as being unsuccessful.
If your smile is saying the wrong thing about you, you can make an investment in your appearance and your confidence with cosmetic dentistry.
Transform Your Smile
Improving your teeth allows you to love the smile you see in the mirror. As a result, you will likely feel less socially isolated and more outgoing. Your cosmetic dentist offers a variety of procedures to transform how your teeth look. Depending on your individual needs and the results you want to achieve, you can benefit from one or more treatments, such as:
Tooth-Colored Fillings: Treat tooth decay with a solution that looks natural. Tooth-colored fillings match your enamel color to blend in with your teeth.
Porcelain Veneers: Instantly cover your imperfections while improving the color, size, shape, and proportion of your teeth.
Teeth Whitening: Turn back the hands of time to reveal a whiter smile.
Cosmetic Tooth Bonding: Fix chips, cracks, and abnormally shaped teeth using a composite resin material that matches your enamel.
All-Porcelain Crowns: Repair a damaged tooth or improve its appearance using an all-ceramic crown. It is designed to look natural, so no one will know it is there.
Get an Attractive Smile Today!
You do not need to hide behind your insecurities. You can get a radiant, confident smile with your cosmetic dentist.
About Dr. David Fisher
Dr. David Fisher has provided comprehensive dental care since 1998. With a passion for all aspects of dentistry, he helps his patients achieve healthy, beautiful smiles. He offers the tailored solutions you need to look and feel your best. If you are interested in cosmetic dentistry, contact our office today to schedule your consultation for a smile makeover.