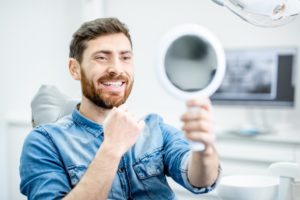 For more than 150 years, dentists have treated tooth decay with fillings made from amalgam. This material contains a mixture of various metals, most notably mercury. You may have heard about the controversy over whether metal fillings are even safe. If you still have amalgam fillings, you might be wondering whether you should replace them with tooth-colored fillings that contain no metal. Keep reading to learn why replacing your metal fillings might be the safest choice for your smile!
What Are the Risks of Metal Fillings?
Many health organizations, including the American Dental Association, have asserted that amalgam fillings are generally safe for the majority of patients. However, research has suggested that metal fillings can pose certain health risks, which include the following.
Mercury Vapor
As the only metal that is liquid at room temperature, mercury can release vapor over time. This vapor can then be inhaled into your lungs, where it could travel to other areas of your body, such as your kidneys or brain.
Bioaccumulation
Bioaccumulation refers to when a chemical gradually builds up in the organs or tissues, and research suggests it occurs with mercury when a person has had amalgam fillings for many years.
Metal Allergies
Some people have allergies or sensitivities to mercury, silver, copper, or other components in amalgam fillings. For these people, metal fillings may cause a negative reaction, such as lesions in the mouth.
Who Shouldn't Have Metal Fillings?
Certain groups of people may be at a higher risk of health problems caused by mercury exposure than others. That's why, in 2020, the FDA recommended that mercury fillings should not be given to people who:
Are currently pregnant
Are planning to become pregnant
Are nursing
Have impaired kidney function or certain neurological conditions
Are under the age of six
Benefits of Switching to Tooth-Colored Fillings
Today, dentists repair decayed teeth with metal-free fillings made from composite resin. This substance doesn't pose any of the health risks that mercury fillings do. It is also malleable and bonds directly to the enamel, so it doesn't require nearly as much tooth structure to be altered. Additionally, the resin comes in every shade of the tooth rainbow. So, you can trust that your results will look flawlessly natural.
If you're not quite sure whether you should have your metal fillings replaced, it never hurts to talk to your dentist. They'll come up with a plan to help you enjoy as healthy and confident a smile as possible!
About the Author
Since earning his dental doctorate from the University of North Carolina at Chapel Hill more than two decades ago, Dr. David M. Fisher has been providing family-friendly dental care at his Greensboro, NC practice. He proudly offers tooth-colored fillings for patients of all ages to help them enjoy healthy, natural-looking smiles after tooth decay. If you're unsure whether you should get your metal fillings replaced, Dr. Fisher would be more than happy to clear things up for you, and you can contact his dental office by calling (336) 288-1242.