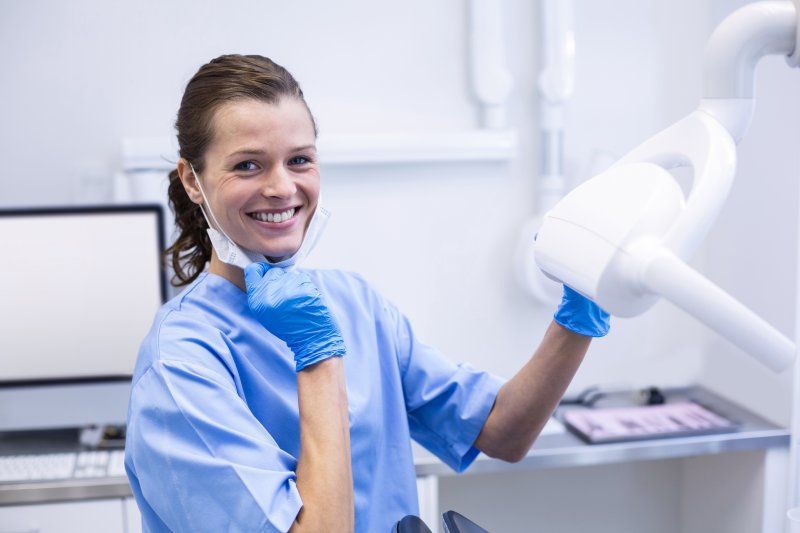 If you don't go often, getting oriented at the dentist's office can be a little bit of a challenge. You'll be given a lot of information about how to take care of your teeth, what your issue might be, and how to prevent problems from cropping up in the future. These things don't always come from your dentist – your dental hygienist plays an equally important role in your oral health! If you're curious about what to expect at an upcoming appointment, or you're wondering about becoming a hygienist, here's a quick guide that will tell you everything you need to know about what they might do during a typical day.
Dentist vs. Dental Hygienist
First, it's best to lay out the broad differences between a dentist and a hygienist. The closest comparison is to a doctor and a nurse. A dentist's primary responsibility is making complex diagnoses and creating treatment plans for their patients. However, there are usually only a few dentists in a single office, and they have to divide their time between dozens of patients. That means hygienists wind up doing a fair amount of the initial exams and spend the most one-on-one time with the patient.
Typical Day for a Dental Hygienist
As established, dental hygienists tend to take on a lot of responsibility. Here are some of their most common duties:


Preliminary Screenings: When you arrive at their office, your dental team will want to get a sense of your overall oral health. This is best done with a quick exam administered by a dental hygienist. Depending on what they find, they may also do a more in-depth check for gum disease or tooth decay. Some offices have advanced scanning equipment like the DIAGNOdent system that the dental hygienist may use to accompany their initial examination.
Bedside Manner: Many patients are uncomfortable at the dentist's office and need someone to reassure them. They may also not understand very well how to take care of their teeth. It is the dental hygienist's role to comfort patients and educate them on how to take care of their teeth. This may mean teaching them to brush or floss properly. It may also mean instructing patients about aftercare for an upcoming procedure. In either case, communication is a key skill for a dental hygienist to have.
Treating Disease: There are plenty of oral disorders that require a dentist's expertise to treat properly, but the fact is that most people only need one of a handful of standard treatments. Dental hygienists are trained to handle the most common of these, like routine cleanings, fluoride treatments, and even repairing damaged teeth.
While dentists are incredibly important, dental hygienists sometimes don't get enough credit. If you're considering this as a career path, it can be an engaging and fulfilling way to make a living. And for those who are going to an appointment soon, you might want to thank your hygienist for all the work they're doing for you.
About the Author
David M. Fisher, Jr, DDS has been serving at his practice for over 20 years, starting as an associate and working his way up to be the sole owner of the practice. He takes pride in his ability to give patients the confidence and joy a new smile brings. He's assisted by a team of hygienists, many of whom have decades of experience at this very practice. If you're curious about what this group of professionals can do for you, Dr. Fisher can be reached at his website or by phone at (336) 288-1242.