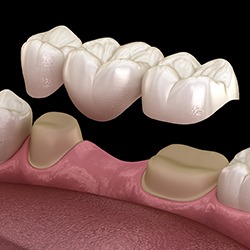 Teeth are meant to last for a lifetime, but 120 million Americans are missing at least one tooth. A dental bridge is a tried and proven method of treating tooth loss that has been used for generations. If you've lost a tooth or two over the years, you can have a complete smile again using a natural-looking solution, but how long will a dental bridge last? Several things affect a dental bridge's lifespan, but here's how you can get the most from your investment. 
Life Expectancy of Dental Bridges
Many factors affect the lifespan of a dental bridge, like the number of teeth being replaced, your oral hygiene, and lifestyle habits. The materials used and the type of bridge will also affect how long your new smile will last. You have more options than ever when rebuilding your smile, which includes:
Fixed Bridge
A fixed bridge is the most traditional treatment. Prosthetic teeth are created from an impression of your mouth, which are held in place by bonding dental crowns to the adjacent teeth. A bridge and crowns will last for 5 to 7 years; however, it's not unusual for them to thrive for a decade or more with the right maintenance.
Removable Bridge
Also known as a partial, a removable bridge features prosthetic teeth in a gum-colored base that has a metal framework. It will clip or clasp on your remaining natural teeth to stay in place. A removable bridge has an average lifespan of 5 to 7 years.
Implant Bridge
An implant bridge replaces both the roots and crowns of lost teeth. Titanium posts are surgically placed into the jawbone to mimic roots. Abutments are attached to the posts to connect a custom-made restoration. Dental implants have over a 95% success rate and are proven to last for 30 years or more.
Maintaining Your Dental Bridge
No matter the type of bridge, your beautiful smile can last for many years with the right care, like:
Good Oral Hygiene: Brush your teeth at least twice daily for 2 minutes and floss every night. If you have a removable bridge, take it out of your mouth and clean it well using a soft-bristled toothbrush and mild hand soap or dishwashing liquid.
Watch What You Eat: Limit your consumption of sugary foods and drinks. It's also best to avoid hard or sticky foods.
Visit a Dentist Regularly: Schedule a cleaning and checkup every 6 months.
Break Bad Oral Habits: Don't use your teeth in place of tools, like scissors, and keep inedible objects out of your mouth, including your fingernails.
A dental bridge is a wise investment in your oral health and quality of life. Your dentist has the solutions you need to fill the gaps in your smile.
About Dr. David M. Fisher, Jr.
Dr. Fisher has over 20 years of experience in dentistry, focusing on oral surgery, geriatric dentistry, and dental sedation. He is a proud member of many professional organizations, including the American Dental Association and the Academy of General Dentistry. If you're ready to treat your missing teeth, contact our office today to request an appointment.