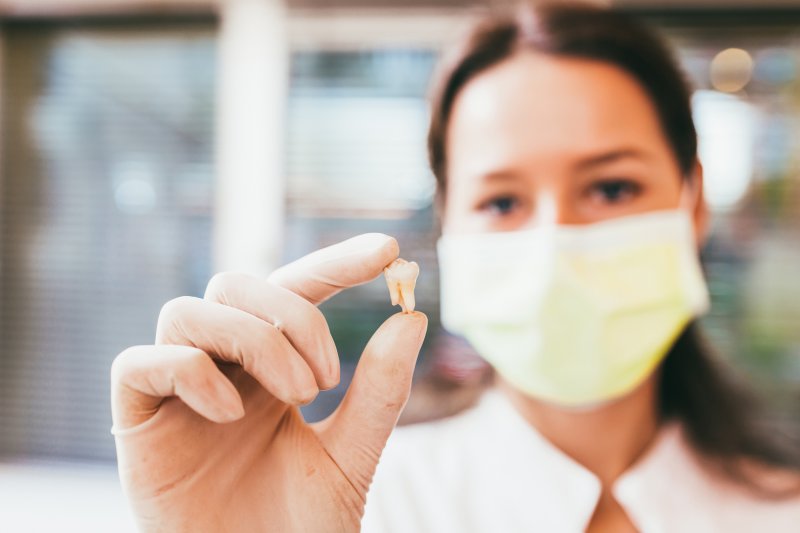 Do you have an extremely damaged or decayed tooth? Are you experiencing loose teeth as a result of gum disease? Do you require extra room in your mouth for orthodontic treatment? While a tooth extraction is effective, safe, and may be necessary for any of these cases, some patients may hesitate to undergo the procedure due to fear of discomfort or pain. Keep reading to learn what you can expect during your treatment process and important aftercare tips for a speedy recovery.
What Are the Two Types of Tooth Extraction Procedures?
A tooth extraction is fundamentally a procedure that involves removing one of your pearly whites. However, there are two main ways this can be done: a simple removal and a surgical extraction. If your tooth is visible and fully erupted, then your dentist may only need to pull it out with a special clamping tool. A surgical extraction is mostly reserved for teeth that are still beneath the gum line, which will require your dentist to make a tiny incision in your gums to access the rest of the tooth. After either procedure, your smile will be thoroughly cleaned before your gums are sutured.
How Will You Feel During the Procedure?
Regardless of the type of tooth extraction you undergo, the very first step involves your dental team completely numbing your mouth with a local anesthetic. This will ensure that you don't feel any pain or discomfort throughout your procedure, other than some slight pressure while the tooth is being pulled. Once your dentist confirms that your pain transmitters are numb, they can begin work on your smile. This way you can receive the essential dental care you need while remaining as comfortable as possible throughout the entire process.
6 Essential Aftercare Tips
After your procedure, you'll need to ensure that you actively minimize your risk of infection and discomfort while you recover. That's why your dental team will provide you with specific aftercare guidelines before you leave their office. Here are several best practices that your instructions might include:
Relax for the first 24 hours after your tooth extraction.
Take over-the-counter or prescribed pain relievers as instructed.
Don't rinse your mouth, use a straw, or spit forcefully.
Eat softer foods like yogurt, applesauce, soup, and pudding.
Refrain from bad oral habits, like smoking.
Avoid brushing and flossing around the extraction site.
While tooth extraction may seem overwhelming or intense at first, your dentist will do everything they can to make sure your experience is completely pain-free! Feel free to consult your dental team if you have any questions, and they'll be glad to walk you through the process so that you feel confident about your treatment.
About the Author
Dr. David M. Fisher graduated from the University of North Carolina at Chapel Hill. He has well over two decades of experience and still regularly seeks continuing education to expand his skills and expertise. He offers a wide range of first-rate services to preserve your oral health, including tooth extractions. If you need to schedule an appointment, visit his website or call 336-288-1242.