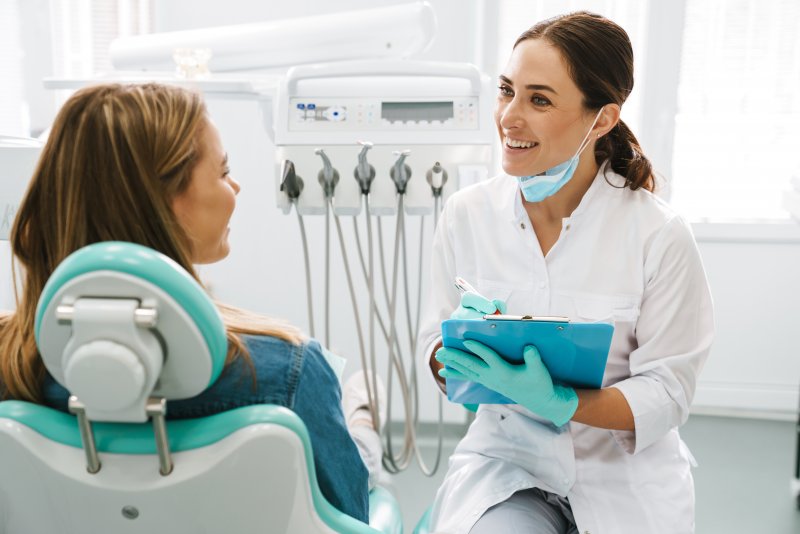 If you're like most people, you have at least one thing—if not a few things—that makes you uncomfortable about your smile. Thankfully, cosmetic dentistry is capable of addressing just about any aesthetic issue you might have with your teeth.
The field is so expansive that if you have a cosmetic dentistry appointment coming up you may not actually know where to start. Here are some questions that it would be good to ask at a cosmetic dentistry appointment.
What Procedures Will Work For Me?
The best place to start at any cosmetic dental appointment is with a thorough discussion of what you're looking for as a patient, and what your dentist can do to help you. Some issues are better treated with some treatments than others, and knowing both what your dentist is capable of and what procedure would work best can be deeply illuminating, especially if you don't know much about dentistry.
You can make this process easier by having a clear idea of what sort of problems you'd want to address and communicating them effectively to your dentist.
Can I See Your Work?
Dental consultations are also a good opportunity to get to know what your dentist is capable of. Even the most experienced professionals have strengths and weaknesses, and sussing those out is a good idea.
Thankfully, most dentists will take before and after pictures of their work for promotional purposes, and they'll be happy to show you selections from the work they've done in the past. You can even ask specifically about treatments that you're interested in, and see if you like the look of their results.
How Long Until I See Results?
Many of the most common dental treatments involve only a single appointment, but some of the more involved ones take several. That doesn't even take into consideration the fact that you may need multiple cosmetic treatments to get the results that you're looking for.
As you begin to put together a treatment plan, it may be a good idea to talk through what your options are, and how long it'll take before you can start to see results.
About the Author
Dr. David Fisher, Jr. is a dentist who loves nothing more than being able to improve not just his patient's oral health, but also their overall wellness and confidence in themselves. Dr. Fisher received his dental degree from the University of North Carolina at Chapel Hill, and since then he has bolstered the experience he's gained through continued education.
If you have any questions about a cosmetic dental consultation, we can be reached at our website or by phone at (336) 288-1242.