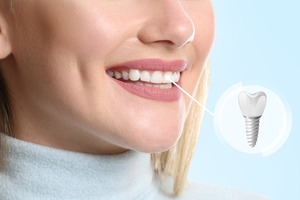 Dental implants are often celebrated as one of the greatest tooth replacement options, not the least because of their incredible durability. Studies have shown that around 95% of dental implants remain successful at 20 years. Many of them even last as long as 30 if they're maintained well.
That said, dental implants can fail if they aren't maintained very well, so if you want to get the most out of them, there are a few changes you can make to your lifestyle that your dental implants may appreciate.
Quit Smoking
Getting the big one out of the way, one of the biggest things that can cause dental implants to fail is smoking. Tobacco smoke can damage the gums surrounding your dental implant, which may make you more prone to developing a serious infection. The smoke itself also weakens bone and gum tissue which is essential to the strength of the implant.
For that reason, dentists and oral surgeons alike strongly recommend that you quit smoking when getting dental implants. If you can manage to do it, it'll offer some serious benefits to your oral health.
Improve Your Diet
Dental implants use the jaw for support, so you can make them stronger by ensuring your bone health is as good as it can be. One way to do that is by making sure that you have enough vital nutrients in your diet.
Calcium and vitamin D in particular are incredibly important to bone health, so you could start by ensuring that you have enough of these minerals in the food that you eat. Dairy products are full of both of these nutrients, so make sure you're getting plenty of cheese, milk, and eggs.
Get Your Routine in Order
Long-term, the greatest threat to your dental implant is infection, which is a consequence of neglecting your oral hygiene. If you want your dental implants to last as long as possible, you should make sure that your dental hygiene is what it needs to be.
Brush your dental implants twice a day at a minimum, avoiding any abrasive or whitening toothpaste that could harm the porcelain on your implants. You should also carefully floss around your dental implants, taking care not to push below the gum ridge and damage the connection between the dental implant and the gums.
About the Author
Dr. David M. Fisher, Jr has spent the last 20 years caring for his patients in his private practice, starting as an associate before becoming the practice's owner. There's nothing that makes him happier than being able to see the look on his patients' faces when they see their new smiles. Dr. Fisher received his dental degree from the University of North Carolina at Chapel Hill, and he works hard to continue his dental education to this very day.
If you have any questions about dental implants, he can be reached at his website or by phone at (336) 288-1242.