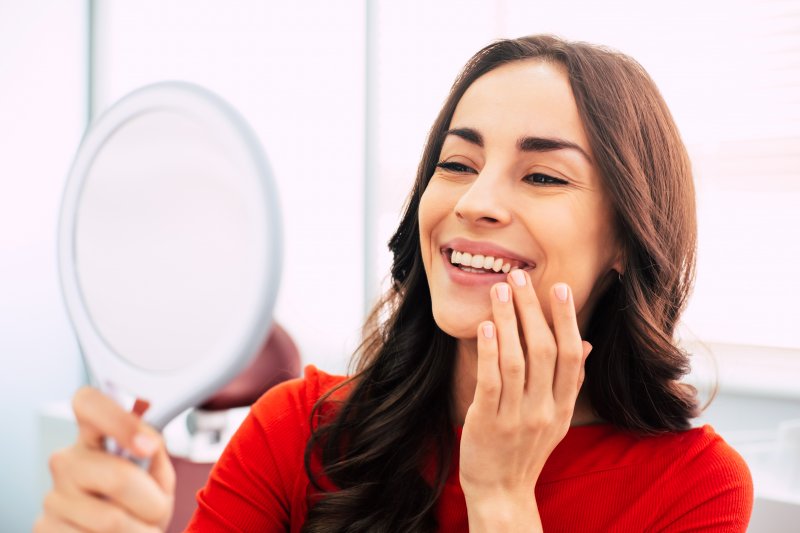 Living without a full set of teeth can cause most people to feel self-conscious about their appearance. Challenged by the inability to perform normal daily tasks (i.e., eating and speaking), it can make spending more time at home a reality for many. So, why would you be embarrassed about your dental implants? As permanent prosthetics, they look and act just like natural teeth. Before you decide to pass on another opportunity to enjoy time with family and friends, here are 3 reasons you don't need to be ashamed of your new smile.
Dental Implants Make It Easy to Eat
If you're tired of missing out on fun evenings out with friends, quit letting your dental implants hold you back. Instead, embrace the fact that they now let you eat all the foods you love. Whether it is steak, vegetables, cake, or crunchy tacos, eating can be an enjoyable aspect of life once again.
Because of their permanent placement within your jawbone, your implants will not shift out of place or fall out while chewing. This is a drastically different outcome as opposed to those who wear traditional dentures. There's no need for denture adhesives when your teeth fuse with the bone tissues to create a firm foundation.
Dental Implants Look Just Like Natural Teeth
With implant posts that sit underneath the gumline, and restorations that look just like natural teeth, you won't need to worry about anyone else noticing a difference between your real and artificial teeth.
Many of the crowns, bridges, and dentures created for dental implants mimic the appearance of natural tooth enamel, especially since they are known to reflect light the same way.
Over time, you, too, may have trouble identifying which teeth are artificial, which is why you can feel even more confident in your appearance.
Dental Implants Help You Look Younger
Apart from the fact that dental implants look like regular teeth, they are also known to help create more youthful appearances. This is possible because the titanium posts that exist beneath the gumline help to stimulate the jawbone.
When teeth are missing, there is nothing (no root) to provide stimulation to the bone. As a result, it will shrink over time, causing facial features to sag. But with dental implants, you'll feel and look much younger because of their ability to keep various oral structures in place.
With dental implants, you can enjoy a better quality of life, so get out and enjoy all the things you once missed. Let these prosthetics help you take advantage of new opportunities that await.
About the Author
Dr. David M. Fisher, Jr. attended the University of North Carolina and earned his DDS degree. With a qualified team of professionals, he is pleased to offer exceptional tooth replacement solutions to individuals who are missing teeth, one of which is dental implants. If you are without one or more teeth and need help to regain your confidence, contact us via our website or by calling (336) 288-1242.