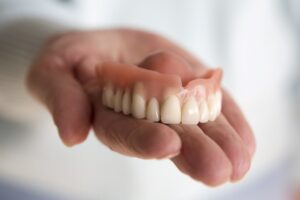 Advancements in materials and technologies allow dentures to look and feel more natural than ever before. They'll fit so well you may never want to take them out. However, wearing your dentures for too long puts you at risk of serious complications for your oral and general health. You will even need to replace your dentures sooner. Here's how long you should be wearing your dentures to keep your mouth and body healthy.
Don't Sleep with Your Dentures
No one wants to be caught with no teeth, but you must remove your dentures at night. Your mouth is a hotspot for oral bacteria, especially while you're sleeping. Not to mention, your gums need a break. It's best to take your dentures out before calling it a night. Besides cleaning your gums and the inside of your mouth, brush your dentures and place them in an overnight soaking solution.
Risks of Wearing Dentures for Too Long
Dental professionals recommend removing your dentures for at least 8 hours per day to avoid many preventable issues, including:
Irritation and Inflammation
Dentures restrict blood circulation to your gums. If your soft tissues aren't given time to receive the nutrients they need, sores and inflammation can occur.
Increased Risk of Infections
If your soft tissues become inflamed, it can lead to sores and raise your risk of infections that can affect your oral and general health.
Oral bacteria growth can skyrocket at night because your mouth is hot and moist. Over time, bacteria can damage your dentures, so you'll need replacements sooner.
Missing teeth causes your jawbone to deteriorate. Wearing your dentures for too long can accelerate bone loss.
Get the Most from Your Dentures
Dentures can last for 5 to 7 years before needing to be replaced, but many factors affect their lifespan. You can get the most from your investment by following a few tips:
Brush Your Dentures: Dentures can't get cavities, but they still require daily brushing to remove food residue and plaque. Use a soft-bristled toothbrush and non-abrasive toothpaste to prevent scratching them, which can damage their appearance and durability.
Avoid Hot Temperatures: Don't expose your dentures to hot liquids or let them dry out because they can warp.
Soak Your Dentures: Soak your dentures in an overnight solution to keep them moist and kill any bacteria missed by your toothbrush.
Visit Your Dentist: Schedule a dental checkup every 6 months to keep your mouth healthy. Your dentist will also reline your dentures regularly to maintain a snug fit.
If you're interested in a long-lasting solution, ask your dentist about the benefits of adding dental implants to your dentures.
About Dr. David M. Fisher
Dr. Fisher achieved his dental degree from the University of North Carolina at Chapel Hill and has regularly continued his education in various specialties, including sedation dentistry. He has over 20 years of experience creating healthy, beautiful smiles. Request an appointment through his website or call (336) 203-8884.