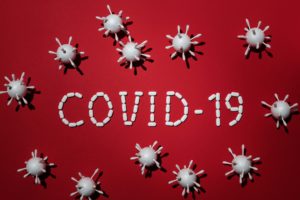 We are living in unusual times as we practice social distancing to curb the COVID-19 pandemic. To stay healthy, you can find several tips online to reduce the spread of the coronavirus. Besides frequent handwashing and wearing a mask, there are other tips you might have heard, such as using a mouthwash to kill the virus in your mouth. There is some truth to this; however, your dentist in Greensboro has the facts you need to stay healthy during the COVID-19 crisis.

Can Mouthwash Stop COVID-19?
Countless studies are being performed to learn more about COVID-19 and what we can do to keep ourselves and others healthy. A few studies in China have analyzed the effects of mouthwash on killing the coronavirus. The studies concluded chlorhexidine, a disinfectant and antiseptic, can prevent and control the aerosol transmission of COVID-19. The saliva of infected patients can contain the virus particles. Using a mouthwash can temporarily decrease the presence of the virus in the mouth. Unfortunately, the effects don't last.
Based on the evidence, the American Dental Association and the Centers for Disease Control and Prevention don't recommend using standard mouthwash to combat the virus. It's ineffective because coronavirus is transmitted in the throat and oral and nasal cavities. As a result, mouthwash won't stop the spread of the virus, but your oral hygiene habits can protect your health during these uncertain times.
How Oral Hygiene Can Help Prevent COVID-19
Your oral hygiene routine can help prevent the spread of the coronavirus and also help keep you healthy. You can lower your risk of illness by disinfecting your toothbrush using 1 teaspoon of 3% hydrogen peroxide in 1 cup of water. Soak your toothbrush in it after every use. If you aren't feeling well or you've recovered from an illness, it's best to throw away your toothbrush and purchase a new one.
Since many dental offices are closed, it may be a while before your next cleaning and checkup; however, you can maintain your oral hygiene at home to stay healthy. Brush your teeth at least twice a day and floss every night before going to bed to keep your smile healthy and give your immune system a boost. By understanding the importance of mouthwash in Greensboro, you can improve your dental health and your general wellbeing.
Commit to Your Smile
As you practice social distancing, now is the time to recommit to your smile while protecting your health. If you have any questions about which dental products to use at home, don't hesitate to contact your dentist.
About Dr. David M. Fisher
Dr. David M. Fisher knew from a young age he wanted to be a dentist. After graduating high school, he earned his dental degree from the University of North Carolina. He enjoys all aspects of dentistry and strives to help his patients achieve healthy, beautiful smiles. If you have questions about maintaining your dental health at home, contact our office today to speak with a member of our team.