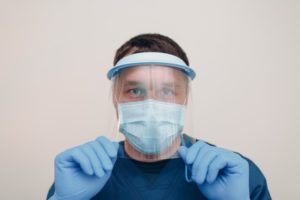 Life during the COVID-19 pandemic is stressful. People are taking every precaution to keep themselves and their families safe. However, even if you've been staying at home, dental emergencies can still happen. Maybe you trip and break a tooth. Perhaps you suddenly come down with a severe toothache.
You decide that you need to book an emergency dental appointment but are concerned that you might be exposed to the virus. Fortunately, dental offices are some of the cleanest, safest places that you can visit during the pandemic. Practices are taking even greater care to keep you safe. Learn why your dentist in Greensboro will be wearing a face shield while they treat you.
The Benefits of Personal Protective Equipment
Even during normal circumstances, dental practices are held to extremely high safety standards by the CDC. They take every precaution to maintain sterile, disinfected environments to keep you living your best while eliminating the possibility of contamination. Dental teams thoroughly wash their hands immediately before and after each interaction with you and completely disinfect each operatory surface after each appointment.
In addition to these steps, your dental team wears personal protective equipment as barriers to prevent the spread of germs. These include disposable, sterile gloves and N95 masks that act as barriers to airborne bacteria.
Face Shields: Additional Safety Steps
Dentists are taking no chances when it comes to protecting their patients from COVID-19. This includes the use of even more personal protective gear. During your appointment, your dentist and their team will be wearing face shields in addition to the high-quality masks that they usually wear. Face shields act as an additional barrier to highly limit the amount of airborne bacteria that are released. In addition, many practices are also using high-powered suction systems to pull pathogens out of the air before they can leave your mouth.
If you have a dental emergency during quarantine, the last place you'll have to worry about your safety is your dentist's office. Between advanced personal protective equipment, higher standards of sanitation, and seeing only small numbers of patients at a time, practices are making sure to keep your safety their first priority.
About the Author
Dr. David Fisher takes the safety and comfort of his patients extremely seriously. He loves to give them the highest quality of dental care available. He graduated dental school from the University of North Carolina and has spent decades continuing his education to remain on the cutting edge of the dental field. He is a member of the American Dental Association, the Academy of General Dentistry, and considers himself a lifelong learner. If you'd like to learn more about he and his team are taking extra steps to keep you safe, give them a call at (336) 203-8884 or send them an email. They will be more than happy to help.