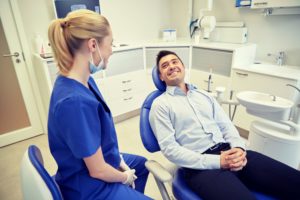 In the old days before the pandemic, your dentist in Greensboro would simply wash their hands, don a mask and gloves, and be ready to go at your appointment. Unfortunately, that's not really the case anymore, due to COVID-19. Extra safety measures have to be taken into account now. Keep reading to learn some of the precautions that your dentist takes to ensure as safe a dental office as can be.
Daily Health Checks of Staff
To maintain a healthy society, it's imperative that health care workers stay healthy. Every day, the health of your dentist and every member of their staff is evaluated. Their temperatures may be taken, and they may be asked questions (similar to what they ask you) about their recent health experiences. If any staff member feels even a little under the weather, your dentist will ask that they stay home.
Change Work Clothes at Work
In the past, you may have seen dental hygienists and assistants at the store in their stylish scrubs. That's not the case anymore. Members of your dentist's staff will only take their scrubs with them and change once they reach the office. This will prevent the transmission of germs from the staff's homes into the office.
Additional PPE
Masks and gloves used to be considered "enough" to keep germs from spreading from person to person in the dental office. Not so much anymore. These days, extra personal protective equipment (PPE) is mandated by the CDC in order to prevent this new potentially deadly virus from spreading. This includes items like face shields, surgical gowns, and shoe coverings. You can't be too careful when it comes to the coronavirus, so it's much better to err on the side of caution by being prepared with PPE.
Having a Safety Champion
Every day, a different member of the staff will be a designated "safety champion." This person will be in charge of making sure every person at the office is following the CDC's and ADA's (American Dental Association) strict dental protocols. By implementing a different person in charge of these protocols every day, it ensures that everyone stays on top of the rules.
These measures help ensure ideal dental safety protocol in Greensboro. If you have questions or concerns about the safety measures your dentist is taking, then just pick up the phone and give them a call.
About the Author
Dr. David Fisher studied dentistry at the University of North Carolina, graduating with his Doctor of Dental Surgery degree in 1998. He maintains active memberships in the American Dental Association, the Academy of General Dentistry, and the Guilford County Dental Society. He takes great pride in keeping his office clean and safe. To learn more about the precautions his office is taking during this pandemic, contact Dr. Fisher's practice at (336) 288-1242.