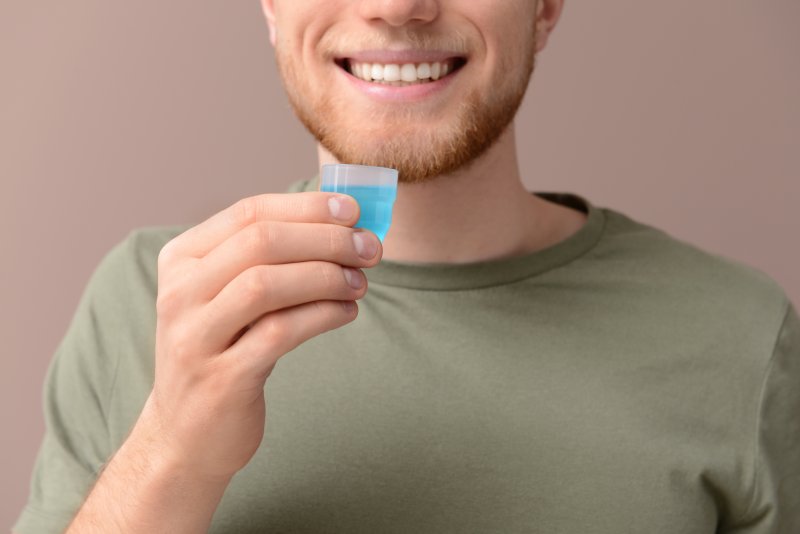 When in a healthcare setting, it's important for providers to treat patients in an environment that is as safe as possible from viruses and bacteria. In order to do this, there are several new dental safety protocols in Greensboro. They are even stricter and more thorough than before, so both the dental staff and patients can maintain healthy smiles and refrain from becoming sick. One of these precautionary measures is requiring patients to use an antimicrobial rinse before being treated. Continue reading to learn how this benefits the practice as well as other steps being taken.
Why Is My Dentist Asking Me to Use an Antimicrobial Rinse?
In addition to brushing and flossing before your appointment, you will be asked to use an Oracare solution provided to you by your dental team. Even though this type of rinse has never been tested on any coronavirus strains, it is effective at killing 99% of microorganisms that cause bad breath, plaque, and gum disease. When you rinse before you are treated, you are decreasing the likelihood of spreading illnesses to your dentist. When the clinical team is safe, so are you!
What Other Measures Is My Dentist Taking to Keep Me Safe?
There are many new steps being taken by your dental practice to keep patients safe. Here are just a handful of them:
Advanced Staff Training
Each member of the staff has completed additional awareness and prevention programs. This was done to enhance their knowledge and preparedness to treat patients during a pandemic.
Daily Health Checks
Every day, when the dental team comes into the office, they complete a quick set of questions and a no contact temperature check. This helps to ensure that everyone is ready, willing, and able to provide safe dental care to patients.
Virtual Waiting Room
Normally, when you arrive for your appointment, you would go inside and check-in at the front desk. Now, you can check-in from your car. Just call your dental staff to let them know that you are there. When your treatment room is ready, they will alert you and take you directly back.
Prescreening of Patients
Before your appointment, your dental staff will ask you some questions regarding your current health. You will also be required to have your temperature taken using a no-touch thermometer. This helps to ensure that no patients coming into the office have COVID-19 related symptoms.
Increased Personal Protective Equipment
Your dental team has always worn PPE when caring for patients. Now they are wearing even more. This includes masks for the administrative team and face shields and protective clothing for the clinical team. The more protective layers they are wearing, the less likely it is that illnesses can be spread. Whenever necessary, PPE will be properly disinfected or disposed of.
HEPA Air Filtration
Your dentist in Greensboro has added HEPA-grade filters to his HVAC system along with stand-alone air cleaners in each operatory. Whenever possible, your team will also activate a high-speed evacuation to minimize aerosol contamination using advanced chairside suction. The air has never been so clean!
Just because you're living through a pandemic doesn't mean that you need to neglect your oral health. With the new dental safety protocols in Greensboro, like antimicrobial rinses, you can get the care you need with peace of mind.
About the Author
Dr. David Fisher is a North Carolina native providing dental care to Greensboro and surrounding communities. He earned his DDS from the University of North Carolina and has gained over two decades of experience. He is also a member of several professional organizations including the American Dental Association and the Academy of General Dentistry. He and his team are taking numerous new steps to keep his office safe during the COVID-19 pandemic. For more information or to schedule an appointment, visit his website or call (336) 288-1242.