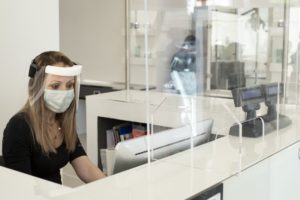 The COVID-19 pandemic has changed what many aspects of our daily lives look like. Among many other precautions, you've probably seen clear barriers installed at grocery stores, pharmacies, banks, and other businesses. Now, you'll see them at your dentist's office too! Find out why your Greensboro dentist has installed these plastic sneeze guards and how they work to keep you, your dental team, and the entire community safe from the coronavirus.
What Are Airborne Particles?
Airborne particles (also known as particulate matter or PM) are very small solid particles or liquid droplets found in the air. Some airborne particles are large enough to been seen with the naked eye, while others are so small they can only be detected with an electron microscope. A few of these include:
Notably, there are many viruses and diseases that can be spread via infected airborne particles as well, like the common cold, the flu, and whooping cough.
Is COVID-19 an Airborne Particle?
According to the WHO, COVID-19 is not considered to be airborne. COVID-19 is spread via infected respiratory droplets that are dispersed when a sick person coughs, sneezes, or speaks. These droplets are larger and heavier than airborne particles, which means they fall out of the air much sooner than particulate matter.
However, the WHO reports that certain situations can cause COVID-19 to transmit like an airborne disease. One of these situations is in medical settings like dental practices that provide aerosol-generating treatments. In these circumstances, health experts recommend preventing the spread of infected aerosolized particles by wearing face masks, regularly disinfecting surfaces, and installing plastic sneeze guards.
How Do Plastic Sneeze Guards Help During COVID-19?
Plastic sneeze guards are recommended by the CDC to prevent the spread of COVID-19 in many businesses, including dental practices. These clear plastic barriers can be set up at counters, front desks, and registers to hinder the spread of COVID-19 in two ways:
Prevent the spread of germs through body fluids: COVID-19 can be transmitted through dispersion of a sick person's nasal mucus or spittle. Plastic sneeze guards act as a solid, impermeable barrier against these infected particles. They protect team members from infected droplets that are spread via sneezing, coughing, or speaking.
Block the movement of airborne particles: Only an air-tight seal can fully stop the spread of airborne particles. However, clear plastic barriers serve an important role in blocking their movement throughout the practice. Your Greensboro dentist has installed them strategically in their office to protect patients and staff alike.
Plastic sneeze guards are one of several new dental safety protocols in Greensboro keeping you safe while you get the care you need. While your next dental visit may look a little different than any you had before the pandemic, you can still expect the same friendly, comfortable, and effective dentistry you've always enjoyed.
About the Author
Dr. David M. Fisher has always gone above and beyond to help his patients feel as comfortable and confident as possible when walking into his office. Typically, he uses a variety of advanced dental technologies and soothing patient amenities to make every appointment as enjoyable as possible. In these unusual times, he continues to prioritize safety and peace-of-mind with numerous extra dental safety and infection control protocols. If you'd like to learn more about his Commitment to Safety, feel free to contact him via his website or at (336) 288-1242.