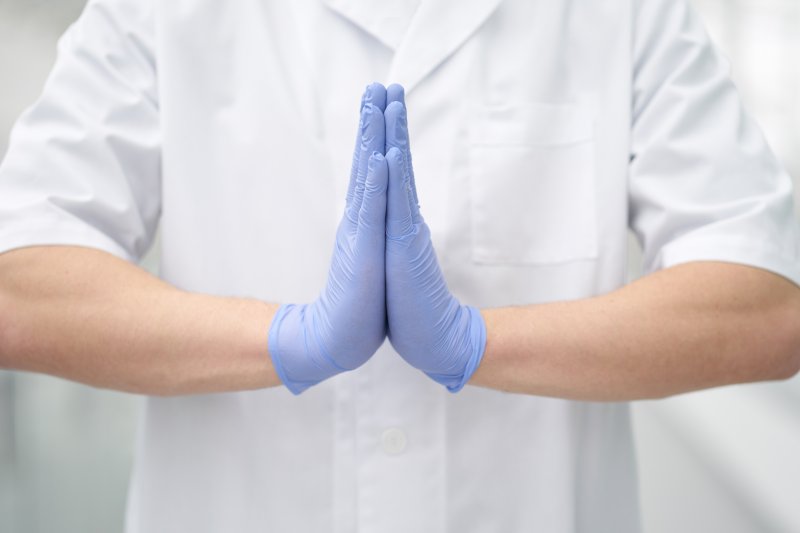 Usually, when you greet your dental team, it may consist of a hug or handshake. As much as the staff care about you and their other patients, COVID-19 still presents a clear threat to the general population, especially those who are higher risk of developing life-threatening symptoms if they contract the virus. In accordance to new dental safety protocols in Greensboro, the common greetings that you are used to are now off limits. But how can you be friendly to your dentist? Continue reading to learn about some fun greetings that you are encouraged to bring into the office.
What Common Greetings Should You Be Avoiding?
Hugs: There is no better way to show someone you care than to give them a hug. Because of how much physical contact they require, they are better saved for a later date.
Handshakes: These are normally perfect for more professional encounters or when you're meeting your in-laws for the first time. But think about how many things you touch with your hands every day. You're probably bringing them up to your face often as well. You should avoid handshaking until a later time.
Fist bumps and high-fives: Even though these don't transfer as many germs as a hug or handshake, they still have the potential of spreading illnesses from one person to another.
La bise: This classic cheek-kissing greeting is often seen in France, but you can encounter it in many different places. Because it involves the touching of your face to another person, you can easily catch illnesses this way. It is best to avoid this greeting until the risk of COVID-19 decreases.
Which Greetings Should I Use Instead?
Elbow bump: The bending and touching of right elbows has become popular amidst the pandemic. Even though this greeting is not 100% contact-free, it is significantly safer than a handshake. This is because most people cannot and don't touch their elbow to their face.
Air high-five: This is like a high-five except your hands never truly touch. There is no physical contact involved and you do not have to be very close to each other.
Namaste: This traditional Hindu greeting is commonly used all over southeast Asia. In Thailand, it is known as the "wai." This involves pressing your palms together with your fingers pointed towards the sky and your thumbs at your chest. It is often spoken with a slight bow of the head. It involves no physical contact and can be used to say both hello and goodbye to someone.
Other creative greetings: If none of these sound appealing to you, you can be creative and come up with others. You can show off jazz hands, demonstrate your classiest curtsy, or even make up your own. The possibilities are endless!
In order to stay safe from COVID-19, it's important to take steps to avoid potential contagion. Avoiding certain common ways of saying hello is one of them. Your dentist in Greensboro looks forward to using some of these creative greetings with you during your next visit.
About the Author
Dr. David Fisher is committed to providing dental care to patients in the Greensboro, NC area in a safe environment. He earned his DDS from the University of North Caroline and gained over two decades of experience in the field. He is a member of several professional organizations including the American Dental Association and the Academy of General Dentistry. Dr. Fisher and his team are taking numerous new steps, including refraining from hugs and handshakes, to keep his office safe from COVID-19. For more information or to schedule an appointment, visit his website or call (336) 288-1242.