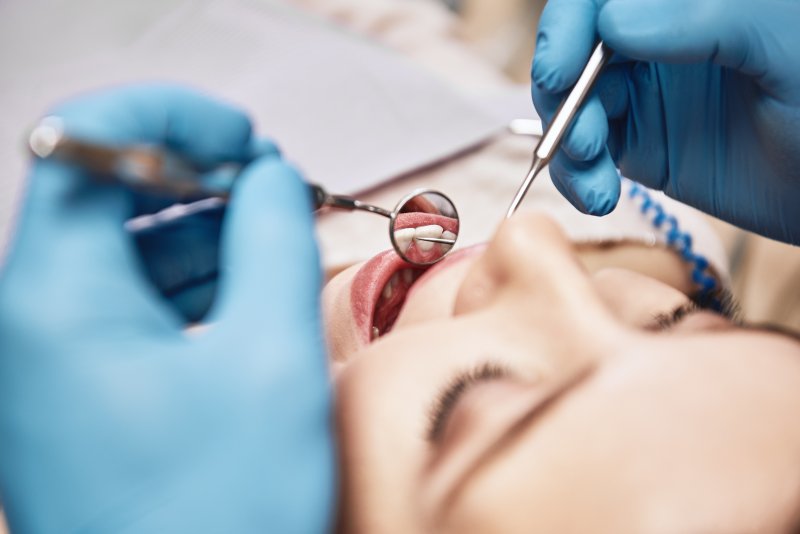 In March, our world forever changed when the novel COVID-19 virus resulted in a worldwide pandemic. Since then, face coverings, social distancing measures, and extensive hand hygiene have become a part of our daily lives in the name of infection control. While extensive research is still underway regarding the intricacies of the Coronavirus, many patients are wondering if postponing their routine visit is the responsible thing to do. However, neglecting your oral health can have detrimental effects on your overall health and even lead to heighten symptoms for patients with gum disease in Greensboro! Read on for more information.
Experts Have Found a Link Between Gum Disease and COVID-19
According to recent research conducted by an oral surgeon named Dr. Shervin Molayem, symptoms of the virus are more severe in the presence of inflammation caused by gum disease. Furthermore, the findings published in the California Dental Association Journal suggest that periodontal screenings need to be raised in light of the current pandemic since poor oral hygiene and gum disease can lead to respiratory complications. Plus, gum disease affects over 50% of Americans, so it is crucial to keep your routine appointments to ensure your gums are in pristine condition!
Your Oral Health Affects Your Overall Health
An infection in any part of your body is dangerous. However, since your mouth is close to your brain and the entryway to your digestive tract, an infection in your teeth or gums is especially risky. If neglected, the harmful bacteria can enter your bloodstream and make their way to your heart and lungs. From there, it can lead to a multitude of serious conditions, like cardiovascular and lung disease. Therefore, make sure to prioritize your routine visits, even during COVID-19.
Bi-Yearly Appointments Detect Non-Dental Issues
Unfortunately, routine visits are often looked at as just a check for cavities. However, roughly 90% of health conditions have oral symptoms, which means your dentist can play an instrumental role in early detection. Therefore, your dental team will dedicate a portion of their examination to check for signs of diabetes, HIV, and osteoporosis.
Your Dentist Is an Expert in Infection Control
Amid the current pandemic, one important topic is on everyone's mind: infection control. Fortunately, your dentist is continuing to implement the highest level of sanitation and safety standards put forth by the Centers for Disease Control and Prevention and the Occupational Health and Safety Administration. Plus, dental teams across the U.S. are implementing additional measures in response to COVID-19, like extra personal protective equipment and social distancing guidelines.
When thoughts of postponing your routine dental visit arise, it is important to remember how crucial your oral care is. To ensure your teeth and gums remain in pristine condition, talk to your dentist about scheduling your bi-yearly visit today.
About the Author
For over two decades, Dr. David M. Fisher, Jr. has used his passion for dentistry and genuine care for his patients to deliver beautiful smiles and pristine oral health. With his hand-selected staff at his side, Dr. Fisher helps his patients with everything from routine cleanings and smile enhancements to emergency visits and restoration treatments. If you are looking for a dentist in Greensboro, don't hesitate to visit his website or give him a call at 336-288-1242.