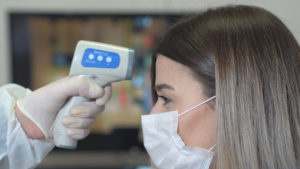 It's essential to remember that even though the country is slowly reopening, the threat of COVID-19 isn't gone. To keep you and others as safe as possible during your next dental appointment, several new extra dental safety protocols in Greensboro have been put in place. Even if you're not feeling sick, your dental visit will start with a no-touch temperature check and a few other extra precautions. Your Greensboro dentist explains how these little steps play a big role in keeping you, your dental team, and your community healthy during the coronavirus pandemic.
Why Do I Need to Check in From My Car?
When you arrive for your visit, you'll be asked to check in from the comfort of your car. This way, you can bypass the reception area and go directly to your treatment room when it's time for your appointment. Utilizing this "virtual waiting room" reduces your exposure to other patients and allows for plenty of physical space for coming and going between patients.
Why Can't I Bring My Own Gloves Inside the Office?
One important way your dental team keeps their practice germ-free is by minimizing cross-contamination. While your gloves are an excellent way to prevent infected particles from settling onto your skin, they can also spread those particles to anything you touch. To avoid bringing any outside germs into the office, you'll be asked to throw out your gloves before entering.
Why Are They Taking My Temperature Before My Appointment?
Many COVID-19 cases present few, mild, or no symptoms. This means that you may be contagious with the coronavirus even if you don't feel sick. A quick no-touch temperature check can identify an elevated temperature that you may not have noticed. Those with a slight fever may be treated in a dedicated room or asked to reschedule their appointment once their temperature has gone down.
Why Do I Have to Use a Hospital-Grade Sanitizer?
Before you're allowed to enter the clinical area of the practice, you'll disinfect your hands with a hospital-grade hand sanitizer. While regular handwashing with soap and water is the most effective way to clear away germs, powerful hand sanitizer is an effective substitute. This simple precaution is another important step in keeping the treatment areas of your dentist's practice as clean as possible.
Why Is My Dentist Asking Me to Rinse with a Specialized Mouthwash?
At the beginning of your appointment, your dentist will ask you to rinse your mouth out with a specialized mouthwash. This antimicrobial oral rinse is designed to eliminate a variety of dangerous particles in your mouth, including any bacteria, fungi, or viruses. While it hasn't been specifically tested against COVID-19, it keeps both you and your dental team healthier during your visit.
Now and always, your Greensboro dentist is taking every precaution to keep you healthy during your visit. While these new steps may seem unusual at first, they go a long way in protecting everyone from COVID-19.
About the Author
To Dr. David M. Fisher, Jr., nothing is more important than the wellbeing of his patients, staff, and the community of Greensboro, NC. While his practice has always exceeded the sanitation standards set forth by the Centers for Disease Control and Prevention, he has added several more infection control protocols in response to the COVID-19 pandemic. If you need to come in for dental care in these unusual times, you can rest assured that your dental team is fully prepared to keep you and your smile as healthy as possible. To learn more about his Commitment to Safety, feel free to contact him via his website or at (336) 288-1242.