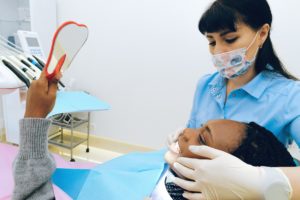 Researchers have found that an attractive smile is attributed to youth, success, and confidence. If you're embarrassed by stained, chipped, or gapped teeth, a picture-perfect smile is possible with a great cosmetic dentist. However, you must have healthy teeth and gums to be a candidate for cosmetic dentistry. Although you're concerned about the appearance of your teeth, your dentist will initially focus on your oral health, and here's why.
Why Does Dental Health Matter?
Cosmetic dentistry focuses on aesthetics, not dental health. Although elective services will make your smile look better, they can cover up or aggravate untreated oral health problems, like tooth decay or gum disease. If the issues aren't addressed before moving forward, you can expect a costly dental emergency down the road.
Your first step toward a better smile is a consultation with your dentist. They'll examine your mouth to look for anything concerning and learn more about your goals to create a personalized strategy to enhance your smile. Dental work can add more steps to your treatment plan, but it's time well-spent to ensure your investment lasts.
Which Procedure is Right for You?
There's no cookie-cutter treatment for a beautiful smile because every mouth and situation differs. You may have multiple options to address common imperfections, like:
Veneers: A veneer covers the front side of a tooth to better its shape, color, and size. Applying them to the teeth visible when smiling allows you to correct many issues using one minimally invasive treatment.
Metal-Free Restorations: Tooth-colored materials are used to make fillings, crowns, and bridges that blend in with your teeth. You'll enjoy a metal-free and biocompatible solution that looks natural.
Teeth Whitening: Your teeth can get up to 8 shades whiter using a powerful whitening agent to treat age-related and surface stains.
Cosmetic Dental Bonding: A composite material is shaded to match the color of your enamel to fix minor flaws, like chips, cracks, decay, or exposed tooth roots.
Your cosmetic dentist will review all your options to make the best choice for your smile.
Invest in Cosmetic Dentistry
Cosmetic dentistry is an investment worth making. Some aesthetic flaws can affect your oral health, like decay, chips, or fractures. Correcting them not only enhances the appearance of your smile but also your dental health. As a result, you can save money down the road by avoiding costly restorative procedures later.
Besides a healthier mouth, you can't put a price on the benefits you'll gain from a confident, attractive smile because you'll look and feel your best. You can change your quality of life by turning the smile of your dreams into reality.
About Dr. David M. Fisher
Dr. Fisher earned his dental degree from the University of North Carolina and has continued his education in many advanced services, like geriatric dentistry, oral surgery, and cosmetic dentistry. He combines the art and science of dentistry to help each patient achieve their best smile. If you're interested in cosmetic dentistry, contact our office today to request a consultation.