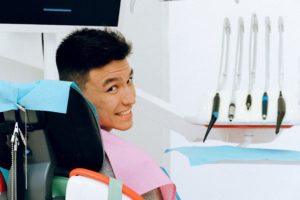 The desire to have a bright, beautiful smile isn't a new trend. There's evidence of ancient civilizations trying their hands at cosmetic dentistry. You don't have to gargle with urine or file your teeth to get the results you want because of cosmetic innovations over the centuries that paved the way for the treatments used today. Here's how cosmetic dentistry has transformed throughout time. 
Ancient Dental Care Methods
Many early civilizations tried to replace missing teeth by hammering objects into the gums, like human and animal teeth, but they also used stones, shells, and other materials. Although this was often done post-mortem, they were the first to try to replace both the root and crown of a tooth, just like a dental implant.
Treating tooth loss wasn't the only method of dental care. Many civilizations used pumice stone, vinegar, and twigs to clean their teeth. Unfortunately, they did more harm than good because they were abrasive, unlike the dental products you use every day.
Besides clean teeth, an attractive smile was also a highly sought feature. They used many methods to resolve aesthetic flaws, like filing their teeth, urine to treat stains, and special coatings that destroyed enamel.
Although you'd never use any of these ancient techniques today to keep your pearly whites looking their best, they set the foundation for many current popular treatments.
Modern Cosmetic Dentistry
Nowadays, there are more options than ever to address many common aesthetic imperfections, like stains, chips, gaps, and missing teeth. You don't have to worry about harming your oral health because your dentist will use treatments that are supported by decades of undeniable success, like:
Porcelain Veneers: Veneers are thinner than ever thanks to porcelain, which is strong and looks like enamel. Attaching veneers to the front sides of teeth allows them to correct many imperfections at once, like chips, stains, and gaps.
Metal-Free Restorations: Metals aren't the go-to materials for crowns and bridges anymore. Instead, all-ceramic material is used to create restorations that look natural to blend in with real teeth.
Teeth Whitening: Powerful whitening agents can dissolve stains to get teeth up to 8 shades whiter without damaging enamel or causing long-term tooth sensitivity. Unlike OTC products, professional teeth whitening offers drastic, lasting results.
Cosmetic Dental Bonding: A composite resin is shaded to match the color of enamel to blend in when used to fix several flaws, like decay, chips, and exposed roots.
If you want beautiful teeth, you don't have to risk your dental health using the latest improvements in cosmetic dentistry. You can turn the smile of your dreams into reality using state-of-the-art solutions that are designed to surpass the test of time.
About Dr. David M. Fisher
Dr. Fisher earned his undergraduate and dental degrees at the University of North Carolina at Chapel Hill. He has completed advanced education in the latest technologies and techniques, including cosmetic dentistry, oral surgery, and sedation dentistry. If you are ready to achieve your best smile, contact our office today to request a consultation.